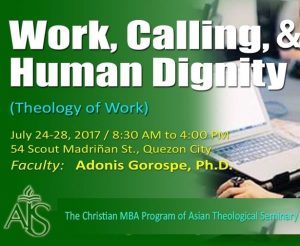 The Christian MBA Program of Asian Theological Seminary
under the Strategic Leader Development Center
Work, Calling and Human Dignity (Theology of Work)
July 24-28, 2017     |     8:30 AM to 4:00 PM
Asian Theological Seminary
Few people discover meaning and purpose in their work. Fewer still find that their daily work is actually an arena for spiritual growth.  Many think of it as a diversion from the really important concerns of ministry and personal devotion.  But God has designed our daily work to be a means of knowing ourselves, knowing God, and becoming a more human person. Discover the blocks, the resources available, and practical personal strategies in finding joy at work!
• Integrate wholeness in work life, relationships, and social impact
• Understand the meaning, purpose and motivation for work
• Understand how work is related to calling
• Understand one's unique calling
• Understand the meaning of human dignity
FACULTY: Adonis Gorospe, Ph.D.
TUITION FEE:
• Php 12,500.00 for 5-day MBA (3-unit credit) course towards the MBA in Biblical Stewardship and Christian Management program.
• Php 8,000.00 for 5-day audit (non-credit) seminar.
• Php 4,000.00 for 3-day seminar towards the Certificate in Managing Non-Profit Organizations program.
• Php 1,500.00 for 1-day seminar.